Precision Fire Protection News
–
Buildings Under Construction Fire Trend Continues
–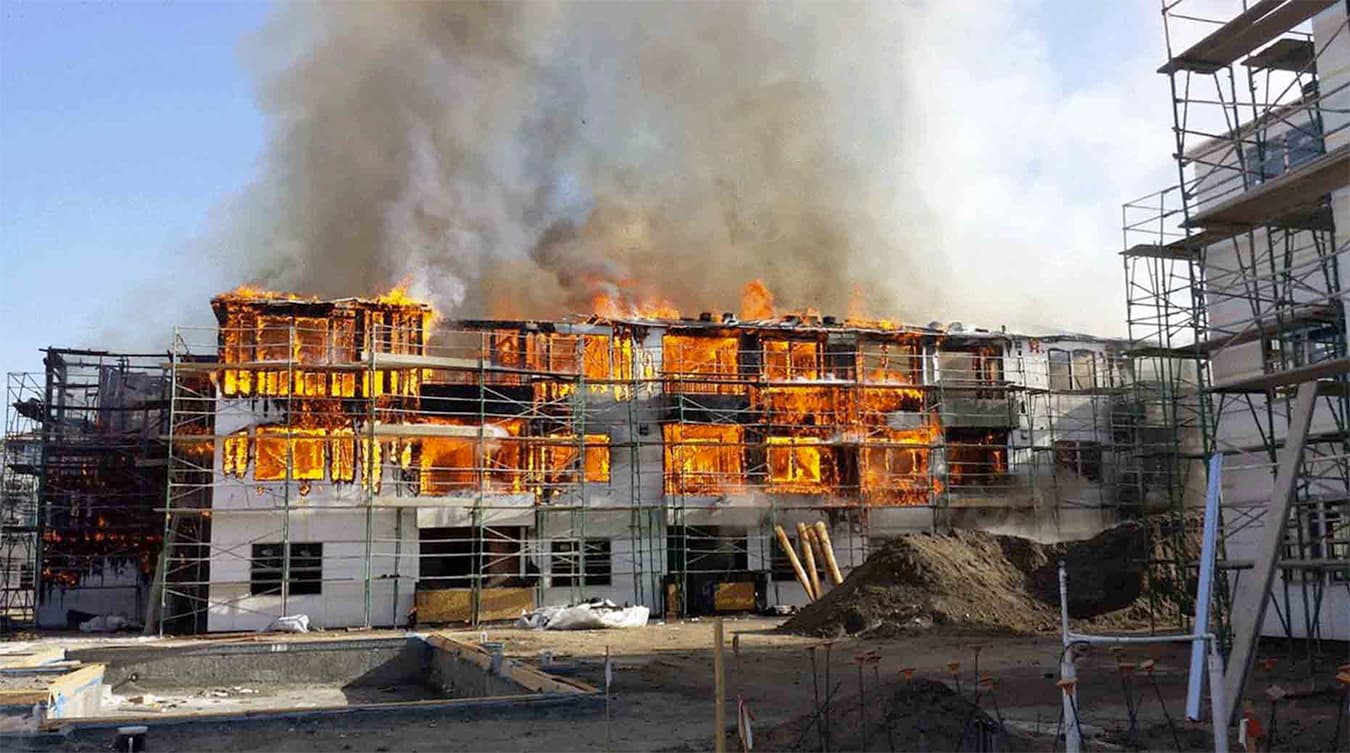 Fires continue to plague buildings under construction or renovation, but efforts are underway to beef up NFPA 241 to fight the problem

Fires involving buildings under construction or renovation occurred steadily throughout 2020, and the opening weeks of the new year were no different.
The fires that ushered in 2021 occurred worldwide and impacted a range of occupancies. Two examples: On January 18, an intentionally set fire destroyed a 206-unit apartment complex under construction in Clark County, Nevada, near Las Vegas. No deaths or injuries were reported in the blaze, but the Clark County Fire Department described the complex as a total loss, with damage estimates as high as $30 million. On January 21, a fire broke out in southern India at a building under construction designed to house coronavirus vaccine production for the Serum Institute of India, the world's largest vaccine manufacturer. At least five people, all believed to be construction workers, were killed in the blaze.
Experts say the incidents shared a characteristic common to most fires that occur in buildings under construction, renovation, or demolition: They may have been preventable.
"I don't want to say those kinds of fires make me angry, but it concerns me that in many cases sprinklers aren't being utilized when they could have saved the structure or at least helped minimize the damage," said Bruce Campbell, chair of the technical committee for NFPA 241, Standard for Safeguarding Construction, Alteration, and Demolition Operations. "Sprinklers aren't a panacea for everything that might go wrong at a construction site, and it certainly depends on what stage the building [construction or renovation] is at. But they're a big factor."
According to NFPA's annual "Fires in Structures Under Construction or Renovation" report, local fire departments in the United States responded to an estimated average of 3,840 fires in structures under construction and 2,580 fires in structures under major renovation each year between 2013 and 2017. The fires in structures under construction caused an average of four civilian deaths, 49 civilian injuries, and $304 million in direct property damage annually.
In recent years, fires involving buildings under construction or renovation have resulted in some of the largest, most devastating, and most publicized blazes worldwide. In December 2014, a massive, intentionally set fire destroyed most of a large apartment complex under construction in Los Angeles, shutting down traffic on a neighboring freeway, damaging numerous nearby structures, and resulting in losses estimated at $100 million. In April 2019, a fire at the Notre Dame Cathedral in Paris, which was undergoing renovations, resulted in significant damage that some experts estimate could cost upwards of $2 billion to repair. The cause of the fire was inconclusive; investigators could say only that the blaze likely began as a result of an electrical short or from cigarette butts dropped into piles of combustible materials.
NFPA 241 contains guidance necessary for building owners, site managers, authorities having jurisdiction (AHJs), fire departments, and other stakeholders to help safeguard buildings under construction, alteration, or demolition. "Many of the tools they need are already contained in the standard, and the standard is only getting stronger," said Kevin Carr, a senior fire protection specialist at NFPA and the staff liaison for NFPA 241. "When I see all these fires and losses happening, though, my question is how the standard is being used—and if it's being used."

Sprinkler emphasis

Recent fires including the Notre Dame Cathedral disaster have figured prominently into the technical committee's discussions around the 2022 edition of NFPA 241, Carr said. One proposed change spurred by the blaze at the Notre Dame Cathedral is to include references to NFPA 909, Code for the Protection of Cultural Resource Properties—Museums, Libraries, and Places of Worship, and NFPA 914, Code for the Protection of Historic Structures, in the text of NFPA 241.
More fundamental, though, are proposed changes to what the standard refers to as the "fire prevention program," or FPP, and the "fire prevention program manager," or FPPM. Previously, the FPP contained eight requirements specific to a building that was under construction or being altered or demolished, including emergency contacts, fire protection systems, and pre-incident planning with the local fire department. Those building-specific requirements are now being expanded to 17, Carr said, and the role of the program manager will grow accordingly.
The core of those new requirements is focused on the installation and use of sprinklers at buildings under construction or renovation, Campbell said, part of the committee's effort to "add a lot more meat to the FPP." The language in the standard that is related to fire protection systems, including sprinklers, has been expanded and clarified, he said, and now calls for sprinklers to be installed so that they conform with the requirements of the FPP, as administered by the FPPM and approved by the authority having jurisdiction (AHJ). The revisions also include improved signage for sprinkler systems and additional communication with the fire department, such as providing fire personnel with site plans that include the location of water valves that can be turned on in the event of a fire or other emergency.
All of the sprinkler-related changes, Campbell said, are designed to help stakeholders put sprinkler systems into service as quickly as possible to respond to a fire. "We want to provide a road map for the building's FPP that keeps everyone in the loop," Campbell said.
Carr said the updated standard could be issued as soon as later this year.
In addition to existing training resources to support NFPA 241 and construction site fire safety fundamentals, a new training tool will soon be available that will complement the proposed revisions in the 2022 edition of the standard. In April, an online learning series designed for fire prevention program managers will launch, with the aim of assisting entry-level professionals responsible for the day-to-day management of a project's FPP.
Campbell hopes the revised NFPA 241 will be an even more effective tool to help prevent avoidable losses. "I've been doing this work for more than 40 years, and I'm pretty much a zealot on this topic," he said. "The committee has made tremendous strides on this standard—we recognized we needed to go further, and we made the changes to help us get there. I'm very proud of what we've done."

SCOTT SUTHERLAND is the executive editor of NFPA Journal. Top photograph: Getty Images
Our Distributors and Materials
Experience
Precision Fire Protection started in the field 15 years ago. Since then Precision Fire Protection has flourished into a statewide fire protection construction leader. Our team of project managers, engineers, designers, inspectors, installers, and technicians all share a passion for quality work and high standards. Precision Fire Protection understands the need to complete projects with integrity, safety, and precision!
Dedication
Our mission is to provide our customers with timely, high quality, affordable fire protection services that are guaranteed. We strive to achieve our client's complete satisfaction. We are relentless in applying the highest ethical standards to ourselves and to our services and in communications with our customers. ​We aim to fulfill that mission in everything we do.
Precision
Precision Fire Protection keeps its team together, even when it's not. Just as vital as field personnel's tools are, our project managers are equipped with the latest software to manage projects. Our project managers send dailies, RFIs, and plan revisions to the cloud so that everyone has access no matter where they are. Being connected is our way of ensuring every project goes smoothly.
Safety
Our team of multi-certified managers and supervisors are highly experienced in job safety. Our managers are OSHA certified to handle each project with care and sensitivity to every unique job site. By ensuring on-site safety on every project we work on throughout Southern California, Precision Fire Protection has developed positive relationships with our General Contractors.