Precision Fire Protection News
–
Using Data for Community Risk Reduction
–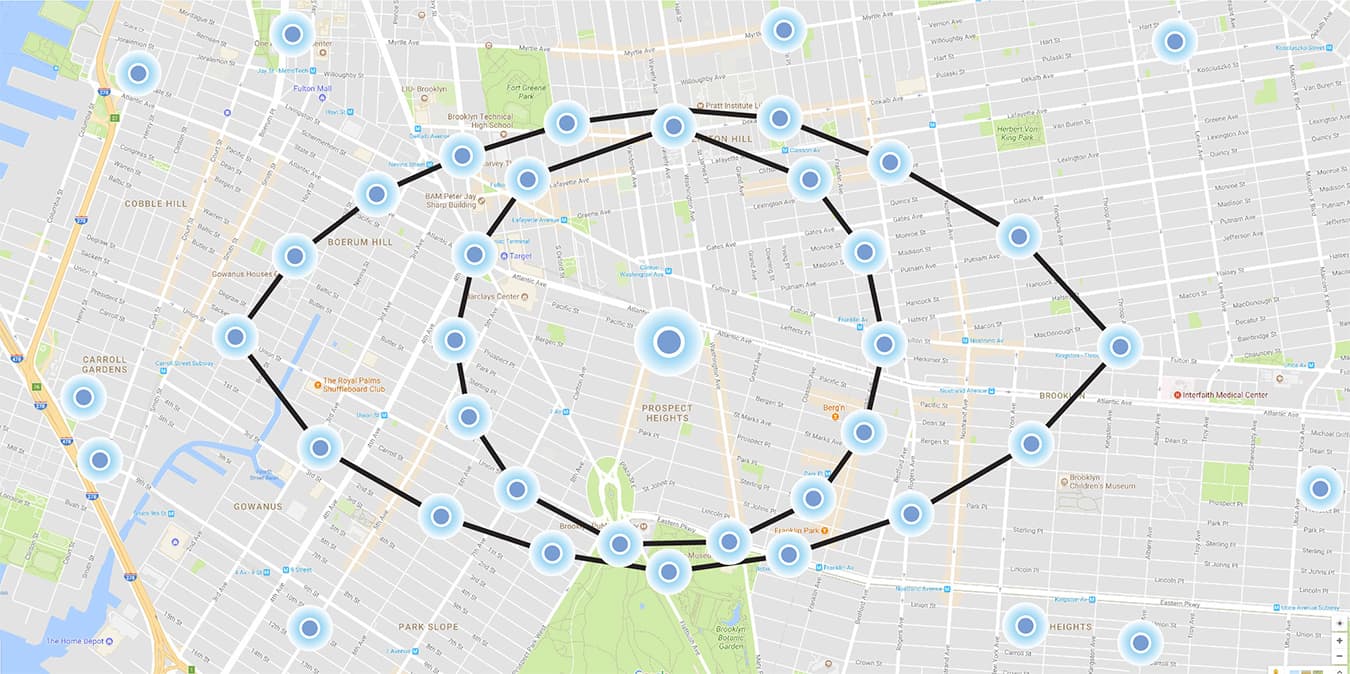 Derrick Sawyer, the former Philadelphia fire commissioner and an early adopter of community risk reduction, demystifies the CRR process and explains how to put your community data to work

In 2010, Derrick Sawyer, then a captain on the Philadelphia Fire Department, attended a presentation about a fairly new concept called community risk reduction. He didn't know it at the time, but it would change the course of his career and ultimately help save lives in his city.
Community risk reduction, or CRR as it is often known, involves collecting and analyzing a rich trove of community data in order to identify the place's biggest risks to residents and to find potential ways to minimize those risks. Sawyer knew that his department had a wealth of community data—most sitting unused in annual reports—and he thought that CRR could make a difference in some of Philadelphia's most challenging neighborhoods—places where poverty and high rates of residential fire seemed to go hand in hand and where solutions weren't readily apparent.
"I wrote up a memo to the fire commissioner at the time saying that I thought community risk reduction was a good way for us to engage the community, address risk, and maybe develop some meaningful partnerships so that we can do a better job of serving the needs of our city," Sawyer said in an interview with NFPA Journal. "That memo sat on his desk for a little while, but eventually he dusted it off and we began down that road."
In 2014, that road saw Sawyer rise to become fire commissioner of Philadelphia. In recent years he has also served as fire director in Trenton, New Jersey, and last September he was named chief of the fire department in Upper Darby Township, a community of about 80,000 residents just west of Philadelphia. Along the way, he has leaned heavily into CRR with impressive results, including significant yearly drops in fires and fire deaths in West Philadelphia, one of the city's most fire-prone neighborhoods.
Sawyer has served on the technical committee of the new NFPA 1300, Standard on Community Risk Assessment and Community Reduction Plan Development, and at both Trenton and Upper Darby Township his departments participated in a pilot program of a new data-dashboard tool that NFPA has created to help departments across the country develop community risk reduction plans. After two years of extensive testing, the dashboard is slated to go live in July. You can learn much more at NFPA's 125th Anniversary Conference Series event on CRR, scheduled for July 20.
With the CRR concept spreading widely in the last handful of years—and misconceptions about CRR spreading almost as widely—NFPA Journal caught up with Sawyer to talk about some of the lessons he's learned during his extensive CRR journey, and how fire departments big and small can translate community data into a plan that can drive meaningful change.
First off, I've heard CRR defined in so many ways. How do you define it? 
The concept is basically learning about the community you serve in a more intimate way. It involves discovering different risks in your community by looking at different data sets and incident reports, then deciding which risks are important to you and your community and developing a plan to address those risks.
Before you helped bring CRR to Philadelphia, how was the department using its fire and incident data?
We always did a good job in Philadelphia of tracking data, but we didn't utilize it to its full extent. Every year we had a year-end report that listed the number of runs each station went on, the type of runs, the type of fires, how many people had died, how they died, and on and on. We had all of this data, but we didn't know how to mine and utilize it to address risk in general. We sent this impressive-looking report out to the media, but we didn't really do much to actually pinpoint why we had these numbers or what to do about it.
I think there are probably a lot of departments in that situation—they have a lot of data but struggle to translate it into something meaningful. What's a good first step?
After you get the data, the next step is figuring out what it says, which means conducting a full community risk assessment. And that's the part where I think a lot of chiefs or firefighters get lost. Where do you even begin? Today, NFPA 1300 can walk you through the process step by step. Years ago in Philadelphia, we worked with a consultant group and they laid out the roadmap for us about what we should be looking for, where the risks were, and what types of risks existed. If you have a very small organization without a lot of resources, you might not have the money to do that, so what do you do then? At the very beginning, it's helpful to take the data and organize it in some type of format, whether you categorize it by risk, by infrastructure, or by age, emergency types, fatalities, or fatality types—just put it all together and then see what it says. Once you do that, you'll probably see some trends. The NFPA CRR dashboard tool is very useful in both collecting data and helping you organize it.
Once you start identifying the trends, you have to say, 'OK, we know that we have X, Y, and Z, but what do we want to do about it?' Or, 'Can we do anything about it?' You may not be able to do anything with it if you don't have the resources. Then, the planning piece comes near the end after you've actually put together your assessment.

What's the issue with doing CRR without going through that community risk assessment process? 
Looking for a quick fix and skipping steps can be a problem for a number of reasons. For example, if it seems like a lot of kids are falling off their bikes in your community and suffering from head injuries, you might decide to start a CRR program to buy a lot of bicycle helmets and hand them out to children. The problem is, you haven't done any research to say where these accidents are occurring and you haven't developed any type of evaluation system. You gave out 100 bicycle helmets, but if someone says, 'That's great, what's the impact?'—well, you don't know. Just because you identified it as a risk, if you haven't done your research it kind of leaves the whole effort null and void because you can't show the value that you added to your community. That's what's missing a lot of times. If you do the process right, at the end you can show added value, which is very important especially during a time when departments are getting budgets squeezed.

Give us an example of what this process looks like in the real world. What trends did you see in Philadelphia when you completed the community risk assessment? 
From doing our community risk assessment, we learned that most people were dying in fires between 1 a.m. and 5 a.m. We identified older adults as the most likely victims, and we identified the areas of the city where they lived. We also noticed that a big factor in many of these fatalities was that people in these areas didn't have working smoke alarms. But residents were rarely if ever calling us to check on alarms or to get new ones. Part of it was they didn't know we had these resources, and part of it was they didn't know they were being unsafe. So we decided on a comprehensive plan to get out the message that we can provide them with the tools they needed to be safe.

How did you do that? 
Once we identified the high-risk areas, we went out and had community meetings in those neighborhoods to educate people. We put flyers and information about the risk in their doors and started running ads to let people know that we had resources for them, like free smoke alarms. We were handing out fire safety information and these one-page fire safety checklists and telling people that if they checked off all these boxes, their likelihood of having a fire would be dramatically reduced. And because we supplied them with working smoke alarms for every level of their home, if they did have a fire, they would be much more likely to get out alive.
Were you able to measure the impact of that effort?
Absolutely. That year of the pilot, there were zero fire fatalities in the area of West Philadelphia where we conducted that pilot and a 37 percent reduction in fire injuries. We also had 50 percent fewer fires in the area, and a reduction in fire responses. Anecdotally, before we started doing this, we never got calls for smoke alarms until someone in the neighborhood had a fire. But once residents better understood the risk, and once they knew they had these free resources, more people started calling us and it really helped us address that risk.

Derrick Sawyer, then fire commissioner in Philadelphia, makes remarks during an event to hand out free smoke alarms to residents in a high-risk neighborhood. Courtesy of Derrick Sawyer

That's amazing. But in order to get there, you had to do a ton of legwork. 
That's the hard part, putting together a plan after you have the data. I think some people are scared to take that leap of faith; they think of it as a really big task. And it seems like it when you start. But the hard part is just in the beginning, getting all this stuff together. Once you have your community risk assessment done, everything else is a piece of cake, because then you just update it every year. The first time, though, is a bear. But it's worth it. Before we started off with this community risk assessment approach, we had a more scatterbrained approach.
We put smoke alarms all over the place and didn't see any type of accomplishment. But once we drilled down to the neighborhood level, found the top causes of ignition and fire fatalities, we were able to target that with a specific plan, and we saw results.
I know you've only been fire chief in Upper Darby Township since September, but do you have a CRR program there yet? 
I've only been here for 189 days, but we're in the process of putting together a formal document, and once it's completed, we'll share it with the mayor, chief administrative officer, emergency management, police, and those other agencies to see how we can work together to mitigate any of the risks that we identified during this process.
In Philadelphia you hired a consultant to help you with the data. Have you done that in Upper Darby Township, or are you doing it yourself? I imagine a lot of smaller jurisdictions wouldn't have the funds to hire outside help.
We didn't have to hire a consultant, because we've been able to participate in a pilot program with NFPA that gives us access to a community risk assessment dashboard to help us get started formalizing a community risk program. The dashboard has provided really high-quality data—the same type of information we got from a major consultant group, but we can get it cheaper or free by being a part of the pilot program. We've also relied on NFPA 1300 to help guide us through the process.
How have the standard and the dashboard tool helped with the community risk assessment process in Upper Darby Township?
The standard provides you with a good guide of where to start, what type of data you want to look for, and then how you bring it all together to start writing your document. It breaks the community data process into buckets like demographics, education level, poverty level—all those things that you need to know about your community—and tells you how to put them in the proper sequence to start putting together a formal document.
The dashboard provides you with data and helps you organize and visualize it. It gives you these heat maps that show where your different demographics are: where older adults live, where children live in poverty, the education level in the community's impoverished neighborhoods, etc. And then you can take your emergency response data and overlay that on those maps, so you can see trends like where the most fires occur. The interesting part is, most of the time you'll discover that the majority of fires and emergency incidents are happening in areas where you have your highest social vulnerabilities.
Have you uncovered anything eye-opening from analyzing Upper Darby Township's data yet?
One surprising thing for me was how many children are living in poverty. You would think being in the suburbs outside of Philadelphia that we wouldn't have the same problems as the big city, but the reality is we do. In some cases, parents can't afford childcare, so they leave their kids home alone and that's when you can see fires increasing or issues with trips and falls because they're playing unattended. It just adds more risk to your community.
What can you do with that information? A fire department can't exactly solve the poverty problem, right?
No, but you can partner with other agencies to address some of those issues. You can explore how you can work with them to help get resources for families, to reduce that risk for the individual, and improve your response.
For example, the local school district worked with us to provide us some training on trauma-informed care—children living in poverty can suffer abuse or other experiences that cause them mental trauma. One child they worked with, for instance, would walk out of the classroom whenever he heard sirens because it triggered some very negative memories and experiences. So when you show up blaring the siren, telling them to do this and that, they might not react the way you expect. How do you address those children when you respond to an emergency? You have to be careful in making assumptions.
Another good example is hoarding, which is a problem in a lot of communities. That's not something you would think the fire department would address, but by working and partnering with the health department to get information about hoarding to our firefighters, we can be ready to address this with residents if we go into these homes, and that might go a little way towards moving them to get some help.
It sounds like CRR can't just stop at the fire department. You've got to really engage and involve the other agencies in your community.
Yeah, that's a very important component. What are the other agencies that you can partner with to get things done? We don't have all the resources. A lot of departments are strapped for funding, especially when you're talking about a combination department or a volunteer department. If you don't partner with these other agencies, you're not going to be able to mitigate a lot of these risks.
Do you have any parting words of wisdom for fire chiefs or departments just starting down the CRR path?
You don't have to do it by yourself. You should start out by asking, 'Who can I partner with to help?' Look within your community and your organization. You have a planning department that can do some of that work. There are colleges and universities that you can partner with that are willing to take on projects. You've got a lot of master's students who are often willing to do some of that research for you or the assessment piece, putting the data together for you as a project for school so they can graduate. And look within your organization to see what skill sets people have. There are a lot of people in the fire department with skill sets we don't tap into—we have a lot of younger firefighters who come into the department with numerous skills. Maybe they can put together data or spreadsheets. And take a look at NFPA 1300 and the dashboard—NFPA 1300 has all the steps there for you.
JESSE ROMAN is associate editor of NFPA Journal. Top photograph: GETTY IMAGES
Our Distributors and Materials
Experience
Precision Fire Protection started in the field 15 years ago. Since then Precision Fire Protection has flourished into a statewide fire protection construction leader. Our team of project managers, engineers, designers, inspectors, installers, and technicians all share a passion for quality work and high standards. Precision Fire Protection understands the need to complete projects with integrity, safety, and precision!
Dedication
Our mission is to provide our customers with timely, high quality, affordable fire protection services that are guaranteed. We strive to achieve our client's complete satisfaction. We are relentless in applying the highest ethical standards to ourselves and to our services and in communications with our customers. ​We aim to fulfill that mission in everything we do.
Precision
Precision Fire Protection keeps its team together, even when it's not. Just as vital as field personnel's tools are, our project managers are equipped with the latest software to manage projects. Our project managers send dailies, RFIs, and plan revisions to the cloud so that everyone has access no matter where they are. Being connected is our way of ensuring every project goes smoothly.
Safety
Our team of multi-certified managers and supervisors are highly experienced in job safety. Our managers are OSHA certified to handle each project with care and sensitivity to every unique job site. By ensuring on-site safety on every project we work on throughout Southern California, Precision Fire Protection has developed positive relationships with our General Contractors.